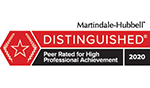 Top-Rated DUI Attorney Onondaga County
When you are facing a DUI/DWI charge, there's a lot at stake. Criminal convictions for DUI may follow you for the rest of your life, affecting your income, career, ability to drive, reputation, and family. If you have been arrested for or accused of a DUI, it is critical that you hire an experienced defense attorney. Tom Anelli is focused solely on defending DUI charges. He has successfully represented thousands of individuals charged with DUI, whether they have been wrongfully accused or have made an error in judgment. Attorney Anelli is available 24 hours a day, 7 days a week, and will aggressively advocate for you. Call us today for a free and confidential initial consultation at (800) 394-1100.
Proven Results in DUI Defense for Over 20 Years
Defense attorney Tom Anelli has over 20 years of experience, having been named a Top New York Lawyer by Newsweek and honored with a Distinguished rating from Martindale-Hubbell. Tom has also been named a Super Lawyer by Super Lawyers, Superb Attorney by Avvo, and Attorney of the Month by Attorney at Law magazine. He is a member of the National College of DUI Defense, National DUI Defense Lawyers Association and New York Criminal Defense Lawyers Association. Attorney Anelli has the passion, drive and skill needed to fight for the best possible outcome.
Tough Representation When You Need It Most
When you are accused of a DUI, choosing the right criminal lawyer is essential. Attorney Tom Anelli understands that your freedom is on the line when facing drunk driving charges. He will aggressively fight for you every step of the way and work to get you the best possible result for your case. Attorney Anelli will take the time to understand your case and clearly communicate each step of the legal process. He is dedicated to going the extra mile to safeguard your future and rights.
Call us now at (800) 394-1100 to protect your rights and schedule your free and confidential consultation.
Client Reviews
"I had gotten a speeding ticket for going 30 above the posted speed limit and Not only did he get me out of the ticket with no points, he also did not cost half as much as some of the other guys. They did every thing remotely and I did not have to show up in court. The best bang for my buck. Go with Tom you wont be disappointed."
"Awesome lawyers great people and they get the job done and they know what they are doing. I would recommend them anytime."
"Tom is a knowledgeable and reliable attorney specializing not only in DWI cases, but in the needs of his clients. If you need the right lawyer for the job, look no further than this firm of highly accredited team members to provide the best possible outcome."
Meet the Attorney
In this video, we discuss some of the major problems with DWI arrests and investigations in New York State.
Contact Us
1

Free Consultation

2

Available 24/7

3

Experienced Representation
Fill out the form or call us at (800) 394-1100.