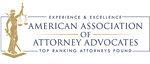 When the system gets it wrong,
we ensure they get it right.
Barhoma Law, P.C., is a renowned California Criminal Appeals and Los Angeles Corporate and Business Litigation firm. We are consistently top-rated in both Criminal Appeals in California and Corporate Litigation and Business Litigation according to multiple agencies, such as American Association of Attorney Advocates, Justia, Esquire'd, Avvo, and more.
As post-conviction lawyers, we represent those wrongfully convicted in:
Direct appeals
Writ of Habeas Corpus (in the state and federal level)
SB 1437
AB 2942
1170(d)
Commutation of Sentence
Post-Conviction Motions
We are renowned in the appeals and post-conviction arena with immense success in the practice area. Our team freed a wrongfully convicted defendant who was proven to have never even been at the scene. We were successful in demonstrating his innocence through new and additional evidence. We also vacated a 20 + year conviction within six months of representation by succeeding under SB 1437. Matthew Barhoma, founder of Barhoma Law, has built a reputation for bringing highly successful Writs of Habeas Corpus at both the state and federal levels, with major arguments like actual innocence, ineffective assistance of counsel, and more.
Call us for a free consultation - 24/7 - (213) 800-7664.
Client Reviews
"Matthew and his team are the best. They did exactly what they laid out in the free consultation. We followed their two phases and we got exactly what we were looking for. Mr. Barhoma showed up for us in court, answered all our questions, and was extremely confident when arguing to the judge. The judge seemed to love him and ruled for us! Thank you Matthew Barhoma!"
"Matthew is the best criminal appeal attorney ever!!!! He is a BEAST! He won my son's SB 1437 case in 6 months. The PD's office was giving us the runaround. As soon as we retained Mr. Barhoma, he instantly added value to my son's case. He gave very very insightful advice and was able to do what the PD's office could not. During oral argument, Mr. Barhoma was absolutely amazing. His courtroom capabilities are unmatched. I've yet to find an LA lawyer like him. He is the best criminal appeals attorney I have ever met. Thank you so much Mr. Barhoma! You changed our lives!!!!"
"We hired Barhoma after two other lawyers stole our money and did nothing for us. Barhoma read through our appeal and offered for us to do a writ. We did and he was able to get evidence into the record that no other attorney could do. He did what we could not get the other lawyers to do. We wish we worked with him first. He saved our lives."
Contact Us
1

Free Consultation

2

Available 24/7

3

Dedicated Representation
Fill out the form or call us at (213) 800-7664.