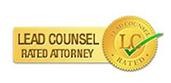 Criminal Defense
Attorney Kirk Obear came to Wisconsin in 1999 after serving in the U.S. Air Force for more than ten years. He graduated summa cum laude from Mount Olive College in 1990 with a degree in Psychology, and received his law degree from the University of Buffalo School of Law in 1994.
While serving in the Air Force, Attorney Obear worked as both a prosecutor and a defense lawyer. As the Chief of Military Justice, he was responsible for the prosecution of military members under the Uniform Code of Military Justice. He also held an appointment as a Special Assistant United States Attorney, prosecuting civilians under Federal jurisdiction. In his next assignment as Area Defense Counsel, Attorney Obear defended clients throughout the country and around the world, earning him a national reputation for success. He was one of the few active-duty defense lawyers to receive the Meritorious Service Medal as a Captain. Attorney Obear received more than a dozen awards, citations, and medals, including a medal for Valor Under Enemy Fire in the Persian Gulf War.
Through his combined experience as a prosecutor and defense attorney, Attorney Obear has litigated over 500 jury trials. He is currently admitted to practice before the Court of Appeals for the Armed Forces, the Air Force Court of Criminal Appeals, the U.S. District Court for the Southern District of Illinois, the U.S. District Court for the Eastern District of Wisconsin, the U.S. District for the Western District of Wisconsin, the United States Court of Appeals for the Seventh Circuit, the Supreme Court of Wisconsin, and the Supreme Court of the United States.
Attorney Obear and his team help the wrongly accused throughout the state of Wisconsin, with offices in both Sheboygan and Milwaukee.
Call for a free consultation - (920) 335-8957
Client Reviews
My husband had a case in 2019, we engaged the services of Attorney Kirk Obear. He was very thorough and brought to light a lot of evidence that helped the case. His Attorney- client relationship is top notch, he is ever ready to listen to the concerns of his clients. He returns calls and emails in a timely manner. I highly would recommend Attorney Obear to anyone in need of legal services.
Great attorney, I would consider him the best in the business.
I hired Kirk 3 years ago to take on a felony case and I unfortunately needed him for the next 2 years to follow. Kirk was straight forward and honest throughout the whole process and really knew what he was doing! I was looking at over 10 felonies that he got dropped to 2, and 12+years that was dropped down to one. I owe him my life for what he's done for my family and I! I could never thank him enough and whenever a conversation arises and someone asks advice I always recommend Kirk Obear! Kirk, thank you for everything! I'll never be able to thank you enough!
Contact Us
1

Available 24/7

2

Free Consultation

3

We Demand Justice
Fill out the form or call us at (920) 335-8957.